-->-->

My '48 Ford Woody

This one actually was started way back in April, 2001. I had gotten a good ways on it when I did the stupid. I attempted to replace the "wood" on the body with real wood. This was NOT good. Fast Forward to October. After seeing Jos Boesten's '48, I decided to try again. With much help from Matt McNally, I got up the courage to complete the kit, and here it is.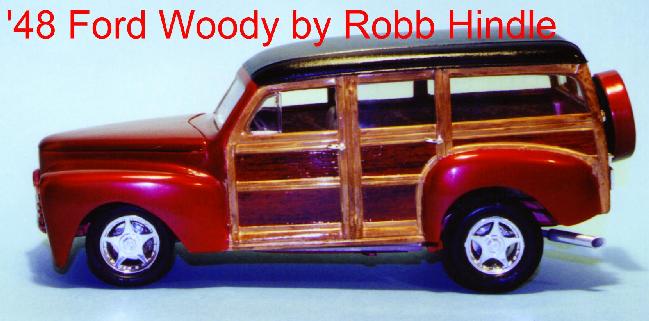 Well, I should say that I'm reasonably happy with the result, except for the stanc. I got just a LITTLE TOO MUCH rake, I think. This came from the fact that I did not take into consideration the SVT Mustang suspension that I used. I mounted it a bit high, and when you add the Ram wheels and rear tires to the mix, this is what happens.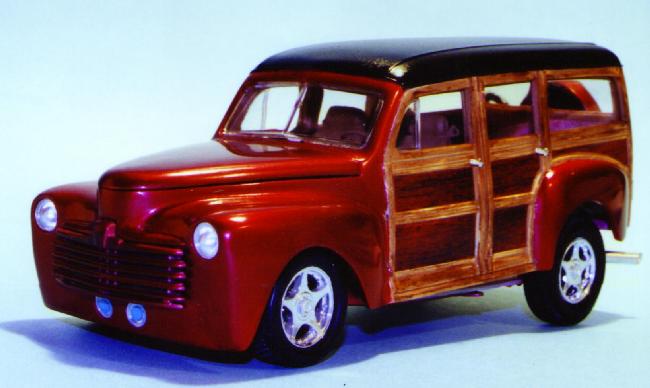 I AM however pleased with the overall look. The front pan, constructed from sheet styrene, turned out well. I slightly frenched the headlights after polishing out the fluting on the lenses, and added the Super Stallion Mustang driving lights (tinted blue) to the fascia. Also, I pancaked the hood, and I believe that's the best feature of the completed model. The wood trim was a combination of the kit decals over black paint and something I hit on via sheer luck. I used Testor's wood flat paint for the base, and drybrushed some dark brown over it. I covered the whole shebang with Deft Defthane.(Well, that's what they use on real wood, right?) I feel that helped it out quite a bit. The Paint is from my '92 Pontiac Trans Am manufactured by Plasti-Cote.
Rear view. The spare tire carrier was a piece of roll cage from the parts box, with a scratch built styrene cover. The decal was produced on my home PC and printed on Micro-Mark decal paper, along with the license plate. The exhaust tips are polished aluminum tubing.
Here you can see the SVT Mustang suspension I used. It fit well, except for the before stated problem with the rake. The exhaust is from the Mustang except for the pipes aft of the mufflers, which are aluminum tubing.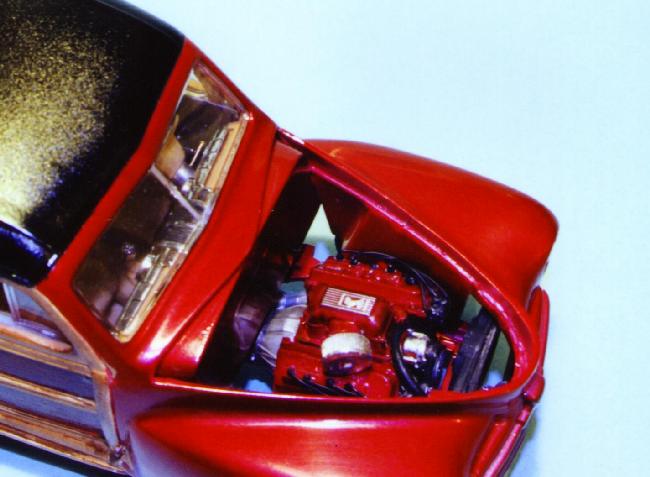 Here's the SVT Mustang engine. I used Detail Master spark plug wires and a parts box air cleaner.
In closing
I AM reasonably happy with the way the car turned out. I am more happy with the fact that I learned quite a bit from the experience. Such as, Forget about the real wood, and test fit the body BEFORE setting the suspension for the final time!

Back to the shop