1927 Ford T-Tub, AKA "Tubby"
Some Background is appropriate here. This kit, (Revell '27 T ) had been sitting on my shelf for a number of months. The kit was only purchaased in order to supply parts for another project, which one I do not remember. Well, while reading Rod & Custom Magazine, I came across a Tub that happened to like a whole lot. Then I remembered the kit on the shelf. Why not do a TUB? Well there would be a alot of Mods to do on this..... Like THAT"S a problem! So I set about to whipping up a tub! After some basic mods, I decided to send up a test balloon, so to speak. I post some early pics on the ModelCarList, and asked for some input.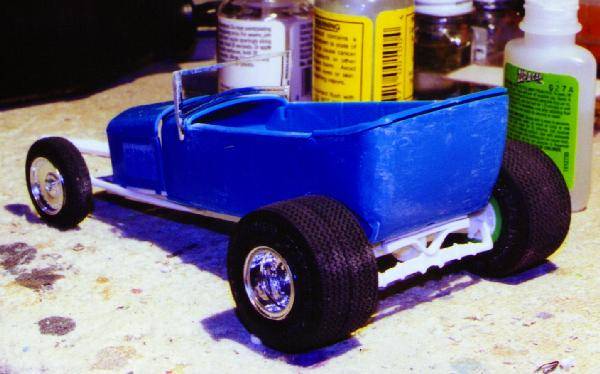 At this point, most of the mods on the T's frame were complete. The wheels and tires shown were from a Snap-Tite Pro Street Trans Am.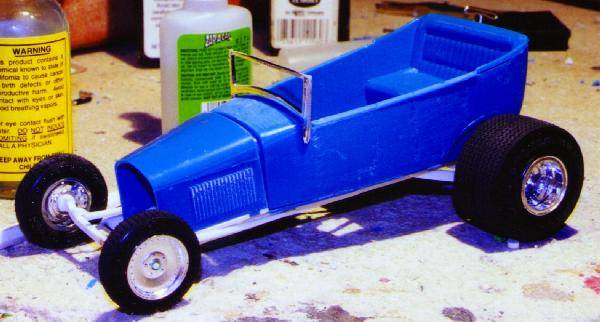 The thing I really liked about this (at least at first) was the serious rubber rake I got . However, The more I looked at the width of the rear tires, the less I liked it. I had also initially planned to put Parts By Parks spun discs on the wheels for a salt flats look, but after some email discussions with MrKnowitall from The 'List, I decided on some somewhat more reasonable rear tires and the choice of engine.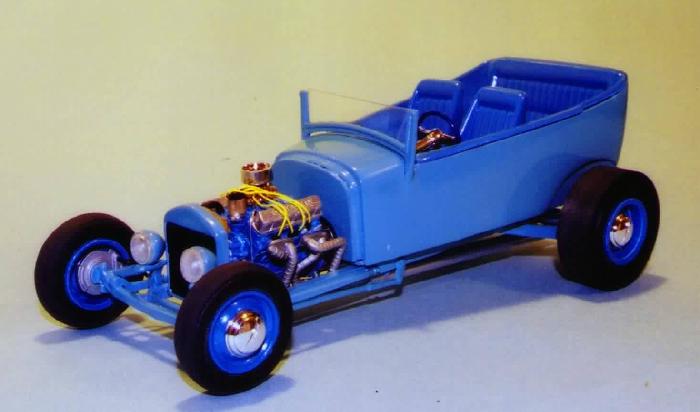 Here's the finished kit. The engine, was from the Edsel Pacer, since it was a Ford FE series engine. The headers are NASCAR Chevy ones, slightly modified to match the exhaust port spacing on the FE. The distributor is a Detail Master piece. The valve covers were Ford Cobra pieces I had in the parts box.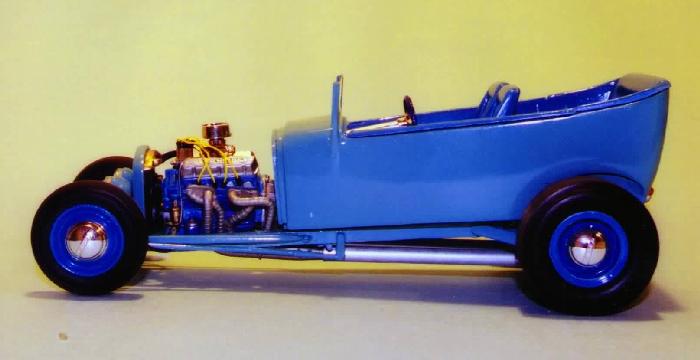 Here you can see a bit better the somewhat less radical rake I ended up with. The tires I used are for the front, Greatly reduced diameter Firestones from the Edsel kit, and the rears are some GoodYear Blue Streak slicks I had in the spares box. The wheels are from the '48 Ford Woody, with the rears widened to fit.
Most of the front and rear suspension is from the R/M '48 Ford woody, slightly modified. You'll notice the Cheater slick grooves I added to the rear tires. I just chucked them in the Dremel and ran a #11 blade to cut the grooves.
By the way, the plate is from ACME Plate Maker. (THANKS!)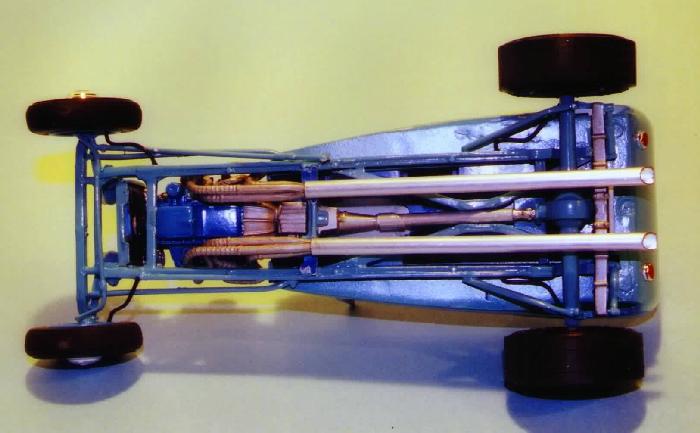 Chassis shot. Like I said before, the basic frame was the kit piece, however it was HEAVILY modified. The exhaust was just aluminum tubing that was baloney cut at the ends. I also added black rubber brake lines.
This was a nice piece to build. I would like to thank MrKnowitall for his suggestions, and patience with my endless questions!
Back to My Stuff!