Allen Harrison & Char Torbett's Gallery
Here is some EXCELLENT work from Allen Harrison and Char Torbett taken at the 2002 Omaha model show. They were sent to me by Wally Karnish, another of my most prolific contributors. When I saw these, they blew me clean off of my seat! This is some of the cleanest work I've seen yet!
So, Let's start with the Lady's work!

Here's A combo of a Chevy Stepside, and a Bike/trailer. Unfortunately, I don't have a lot of background info on the subjects, so I'll be guessing at some of this. Looks like the Chevy is a'55 and the bike is obviously a Harley. But what really lights my fire is the build quality. This is knock your socks off gorgeous! The Chevy was a 1st placer in the Street Machine class, while the trailer took 1st place in the Miscellaneous class!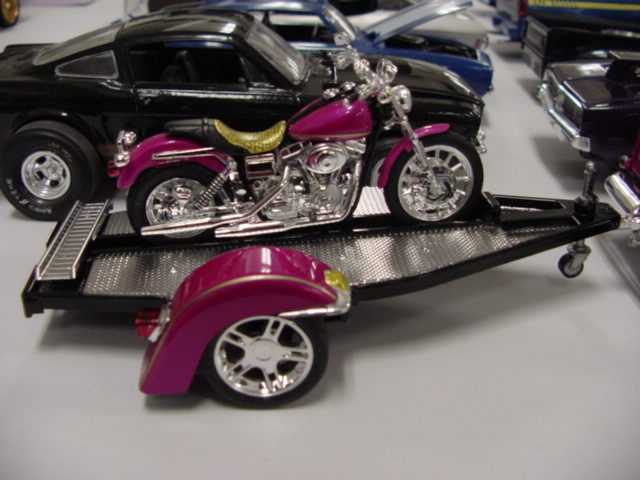 Here's a better view of the Harley and its trailer. By the way, I love the color!
Now, HERE'S something you don't see everyday. Or pretty much anytime, and that's why I like it! I would have never thought of this! A Rolls Royce wagon? Yeah baby! By the way, the Rolls took 1st place in the Custom Class, and also Best Paint!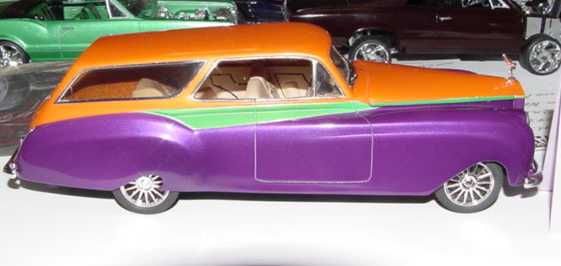 This car's cool factor is off the scale!

How about a 1960 Plymouth wagon? You know, I never thought wagons to be that high up the cool scale, but these are forcing me to reconsider!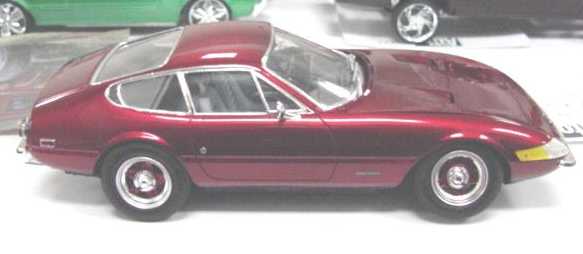 Crockett's ride was cool, but not THIS cool! Again, a 1st place winner in Curbside, and Best interior!
Your not-so-basic Cadillac custom.Or least it appears to be!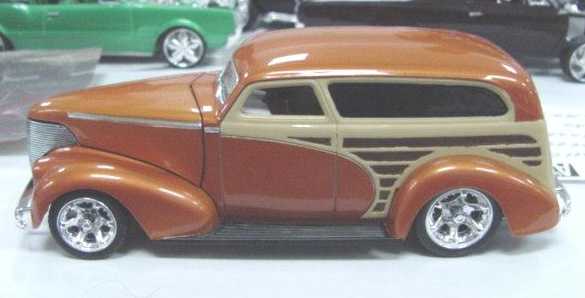 '39 Chevy Wagonrod.Here's the winner in the Box Stock Class! I gotta find out where Allen got the wheels! BTW, Allen and Char use House of Color paints.

What cruise would be complete without a '59 Cad convertible? Pink no less!
You know, what really keeps this site going is the contributions of folks like Char and Allen. The flat out excellent work they do, and the fact that they allow me to bring it to you really keeps me motivated to keep up the site, and it also provides the inspiration I sometimes need to raise my own level of work.
To Char and Allen,
(and Wally for helping)
THANKS!!!
The photographs on this page are courtesy of Allen Harrison and Char Renee' Torbett, and are used with their permission.

Back to the World Gallery