Matt McNally's Woodwork
Recently, I asked a question on the Model Car List about getting the wood on a woody model looking right. I had the extreme good fortune to have a gentleman named Matt McNally give me not only an explaination, but inspiration as well. Matt showed me some examples of his work, and I was so impressed that I asked if it would be alright if I posted some of his work on my site, and Matt was kind enough to allow me to do so.
I also asked Matt to give me some background on himself, and well, I'll just let Matt tell you.
You also wanted to know a little about myself. Well, I am married and have 2 wonderful children, Caleb age 5 and Alexis age 2. Caleb has already started building models with me and it is one of our favorite past times. We live in Minnesota and there are no model car clubs in the area. The only way I keep up to date on tips and tricks is through the internet. I started building cars and trucks when I was 8 years old and have every car I built - most of the earlier ones are in the parts boxes right now but I have them none-the-less. I will build anything with 4 wheels but my favorites are muscle cars (especially Fords), NASCAR, drag cars, street rods, classics - well, I guess it may be easier to say anything but imports even though a couple of those have found their way into my stash. At last count I have about 125 built models that I could display if we had the room to do so. I also have a couple hundred un-built models and since I am 30 right now, I probably don't need to buy anymore as it will take me until I die to build all of those. Just don't let my wife know that I admitted that!!!! I still have a long list of "must have's".
Here's just some of Matt's work. I have some of his in progress work on the "Workbench" page if you'd like to see more.
This is Matt's '39 Chevy WagonRod. Matt's technique is evident here. You know, I've always had a soft spot for Sedan Deliveries.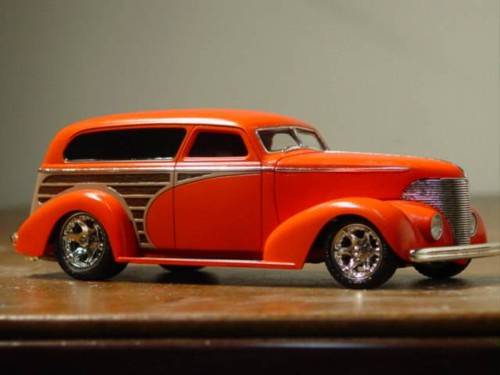 What I like about what I've seen of Matt's work so far is he got the stance down. I mean, ANYONE can build a clean model, but it takes talent to get "the look" and comes with the stance!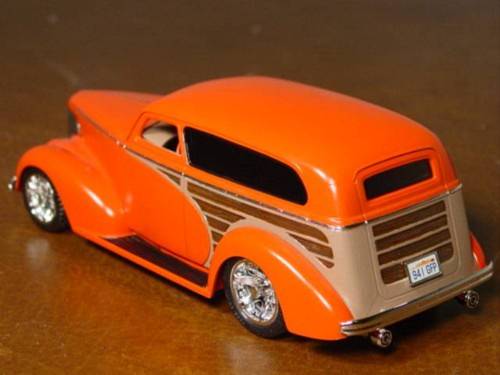 What can I say...... I like street rods, and orange ones especially!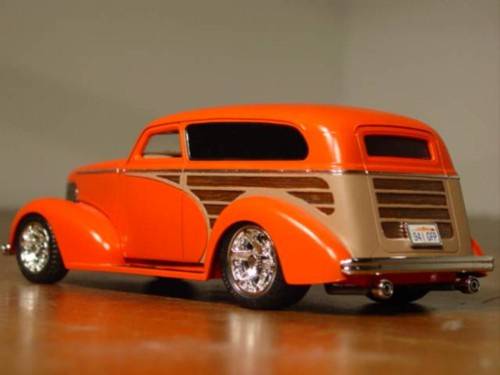 This is what I'm talking about! Clean build, just right stance, well executed. It just doesn't get much better than this!
Matt tells me he has more Woodies in the works. I can't wait to see them!
Again, Thanks, Matt!!!

Back to the shop!



-->-->