And Now, coming to a cruise ship near you..................
Rusty's Last call!
Rusty Wallace's 2005 NASCAR Dodge Charger
As usual, some background is necessary here. In 2003 my wife, better half and inspiration Crystal, saw an ad in the local paper from Wal*Mart regarding a Caribbean cruise on Carnival Cruise Lines with her favorite NASCAR driver, Rusty Wallace. It was at that point that we decided to book the cruise. To make a long story short, the travel agency (West Penn AAA) screwed up and got us on the ship, but not in the proper group to participate in the Rusty activities on board. Needless to say Crystal was very upset. It was my mission from then on to get her to meet Rusty somehow, someway. An attempt was made at Mointaineer Raceway park, but a line that was literally a half mile long ended that. (There's a funny story that goes along with that, but I'll keep it to myself for now) We decided that we would try the cruise again, but with a TA that knew what we were talking about. We were directed to Lynch Tours in Hanover, PA and are as of this writing, booked and confirmed for the 2005 Rusty Wallace Last Call cruise.
One of the things I had planned on was to have Rusty autograph my 2000 Rusty Ford taurus model that appears on the Paddock page. Obviously, that didn't happen. So, for this year, I decided to do a 2005 Dodge Charger version. Now, I won't get into deep into the buildup of the kit, since I used the Ryan Newman Intrepid kit from Revell, and it's nearly identical to the KISS Sterling Marlin car and the Bill Elliott cars I've already done.
Here's the pics.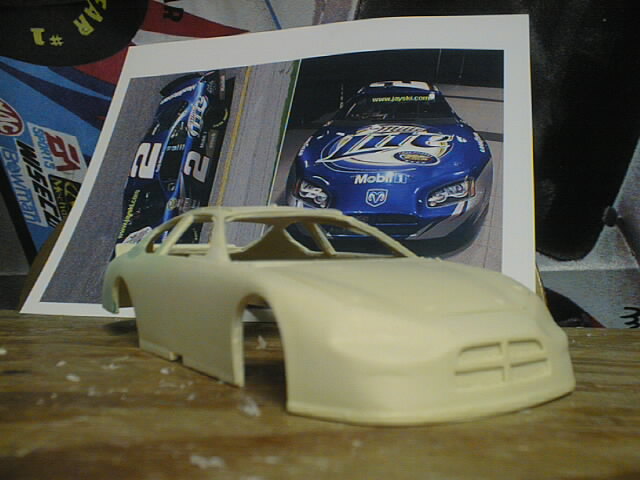 The resin body from BSR Replicas. I've had my issues with BSR in the past, but this was an excellent piece! A minimal amount of cleanup to do on the body, it fits perfect, and it looks right! What more can you ask? BTW, the decals are also from BSR, and they are also very good.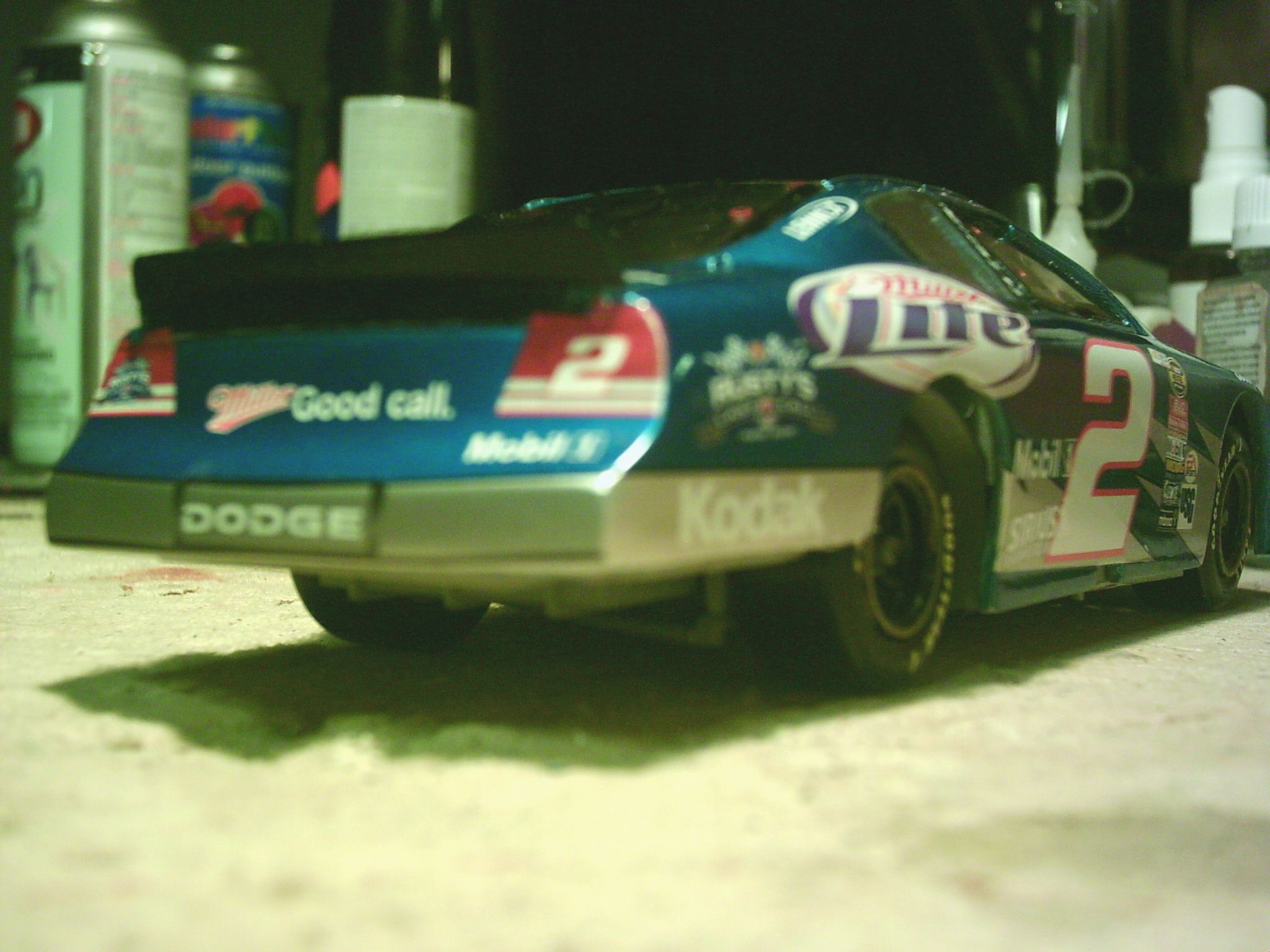 Rear shot. Sorry for the slightly out of focus, but the digital I'm using now has a limited focal range.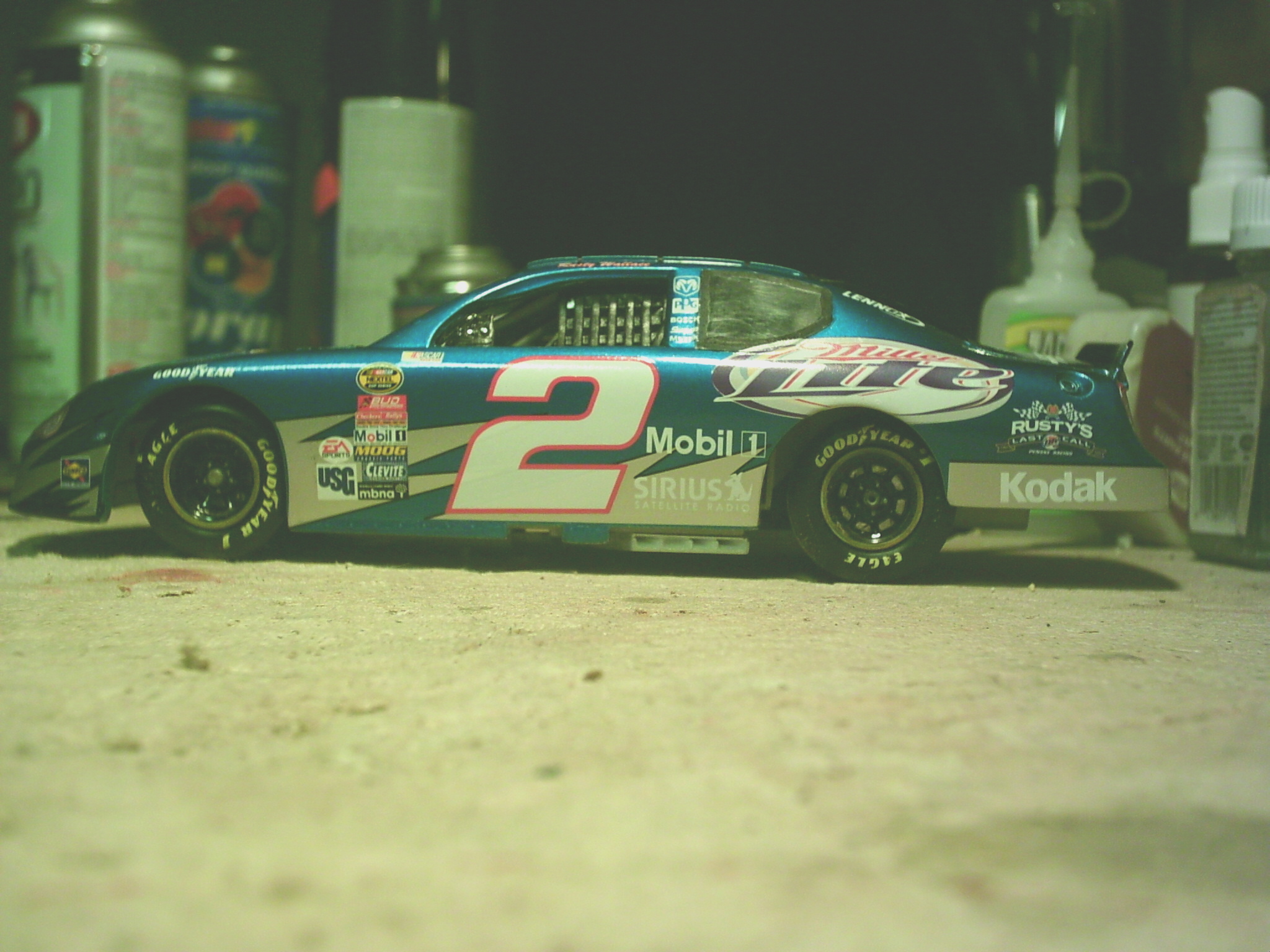 As you can see here, the Wetworks decals are excellent. The color I used was Testors transparent blue over a Plasti-cote silver. I thought it worked very well.
Also, I slightly modified a Revell NASCAR display to resemble the start/finish line at Pocono Raceway, which I will also have pics of when I return from the cruise.
As I implied earlier, this was built for the express purpose of have Rusty sign it on the Carnival Valor in December, 2005. I will certainly get shots of this, and post them on this page shortly after I return. In the meantime, Checkout Carnival.com for more info on the Rusty cruise, and I'll see y'all when I get back!
Oh, By the way.......
WOOOOOO HOOOOOOOO!!!!