1969 Pontiac Firebird
This one has a bit of a story behind it. . . . . .
On Christmas, last year Crystal bought me an AMT 3-pack and one of them was a '69 Trans Am. Well, I was looking at my stash for a new project, and saw this one, and at the same time remembered a 1:1 Firebird I owned as a 21 year old. (just before I found out the ex-wife was pregnant) Well, I had to get rid of the 'Bird before I could finish replacing the blown-up 350 with a 400/400 combo I already had bought. About a year after selling it, I saw the Firebird out on the road, sounding AND looking rather healthy. Needless to say I was sick about it.
This model at least allows me to own a 1/25th version, anyway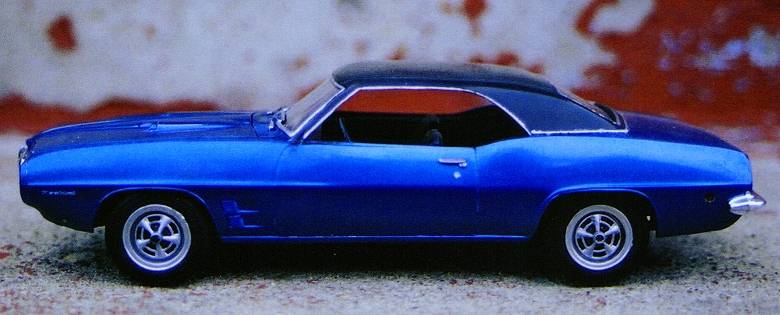 Side view: My 1:1 'Bird had a black vinyl top. The paint is Plasti-Cote Medium Blue Lacquer.
Rear 3/4 view: The roof trim is Bare-Metal foil. The license plate was produced on my home computer.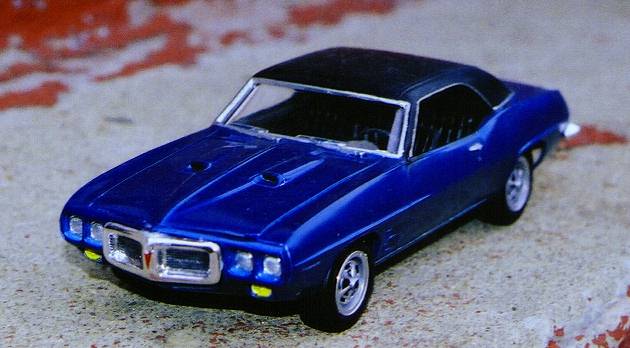 Front 3/4 view: I was a little disappionted with the overall detail on the base kit and it shows in this view. No matter what I tried, I couldn't get the hood to fit right
STATS
Base Kit: AMT 1969 Firebird Trans Am
Paint: Plasti-Cote Body Shop Medium Blue, Mar-hyde Satin Black on Roof, Testors MM Classic Black on interior
Mods: NONE One of the few kits I've built box-stock

Back to My Stuff!