Welcome to Kitbash City!
This is what happens when you combine boredom, SAE, and styrene plastic!
This is MegaBird2!

This is the original Tom Daniel Design.... I intended to follow it at least fairly closely, but sometimes things tend to follow their own path.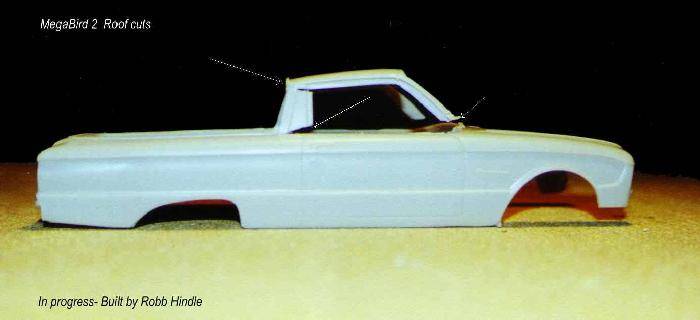 This shot shows the initial cuts for the roof. The roof was re-mounted tilted forward of it's stock position and with approximately 3 scale inches of chop.

Here's the body just about ready for paint. The roof spoiler was constructed of Evergreen sheet styrene, along with the deck spoiler. The scoop is from the AMT '57 Corvette Street Machine kit.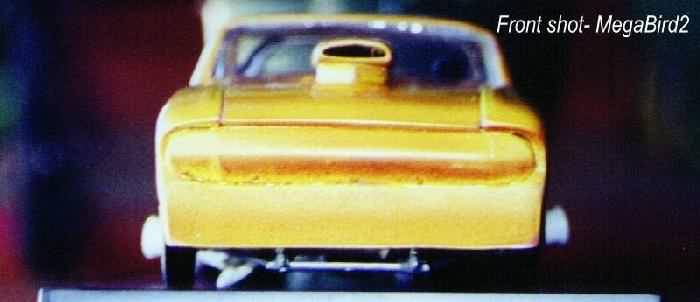 This pic is the front view. the stock grille was sanded down and the headlights were blanked with styrene.

Side shot. After I took the pictures, I realized the right side headers were not properly set. This was corrected shortly after.

Please excuse the somewhat fuzzy focus on this one. By the way, the color is something I came up with after completely screwing up the first attempt. Crystal thought it looked like butterscotch. I think I'll call it "Butterscotch Firemist"
Stats
Basic kits: AMT '61 Ford Falcon Ranchero, R/M Summit Pro stock Firebird. (chassis donor)
Paint: Body color-custom-mixed by Robb. Chassis- PlastiCote Pewter silver. Assorted Testors paints.
Mods: Extensive body mods: roof chop, filled bed, rolled rear pan, front air dam. Chassis lenthened approx 1/4 inch, roll cage modified.
By the way, I'd like to thank Robert Fjeld for giving me the encouragement to complete this project.
THANKS!