1962 Chevy Impala SS Convertible - "Lowpala"
I've always liked the '62 Impala SS. I don't believe that there is just one element that really makes this car the classic that it is. Certainly the 409 CID engine is a factor, but not the only one. But for me, the overall wedge shape, the curve of the windshield, and the character line down the car's flank are what makes the car for me. When I saw this one on the shelf at Pat Catan's, I immediately thought of a mild custom with a late model engine and a more modern wheel / tire combination. As with most of the models I build, things sort of took their own path during construction. But I'm fairly happy with the completed car. I hope you enjoy the pictures, and if you have any comments, or suggestions please e-mail me and let me know.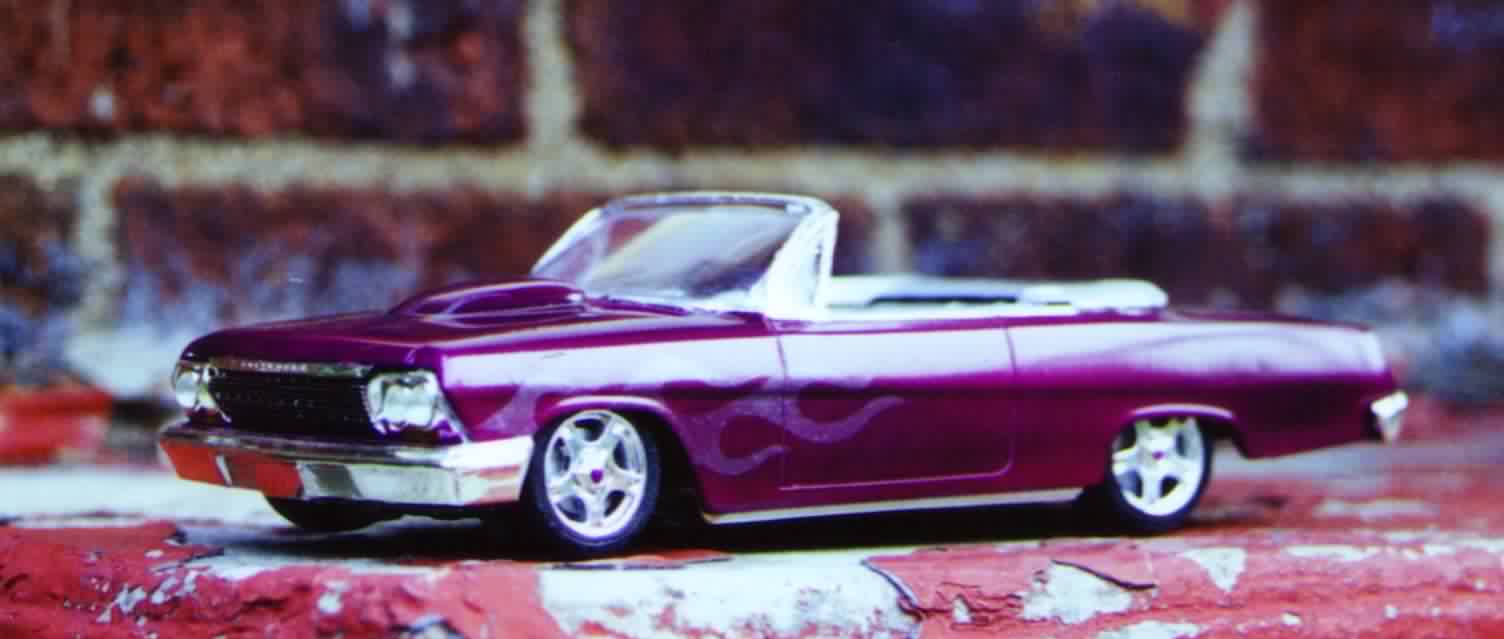 Here's the 3/4 shot . The color is something I came up with for my wedding using various colors of Testor's paint. I call this color "Reception Purple". The ghost flames were done by mixing some of the base color with Testor's 1146 silver and shooting them through some Jimmy Flintstone flame stencils.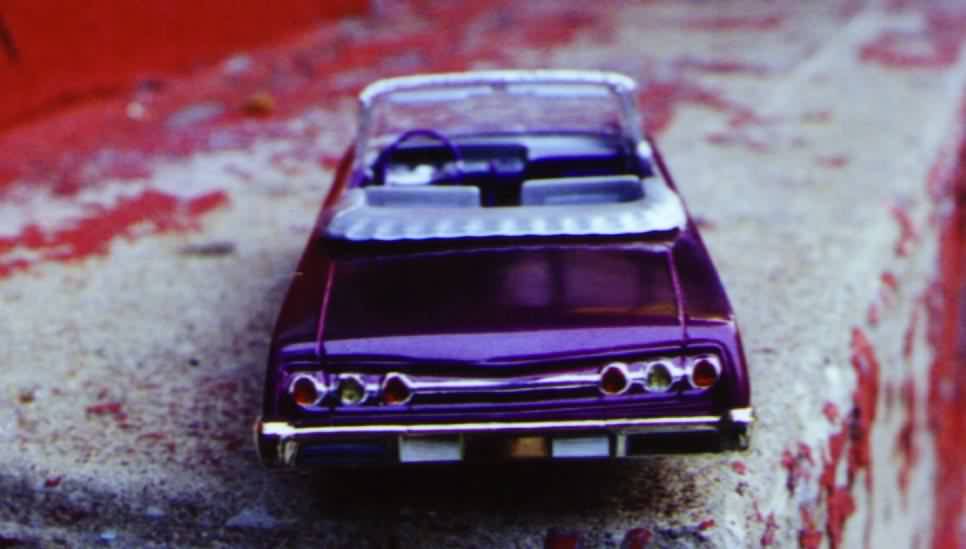 Tail section. I removed most of the stock kit's geegaws (read body trim). The tail lights are clear styrene painted with Testor's stop light red.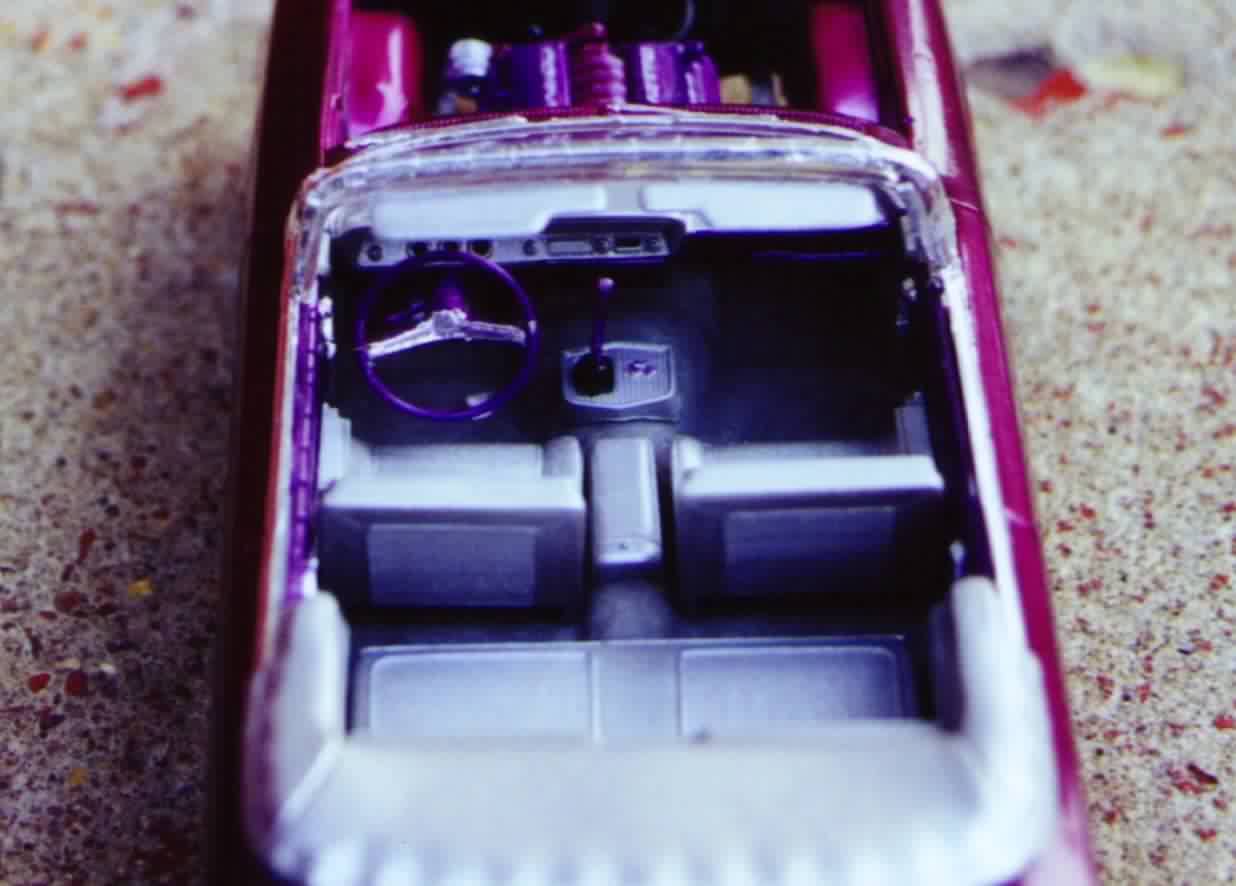 The interior. I left this pretty much stock aside from the colors, which are Testor's Colors by Boyd Purple Pearl, and Plasticote platinum silver.

The engine I used (along with the wheels and tires) is from a Corvette C5 kit. I felt that a High-Tech engine would compliment the '62 body well. Besides, if I was going to build a 1:1 version, I'd have to do this!

The side shot. I was surprised that the C5 wheel/tire combo fit this well. By the way. the hood bulge is from the parts box, and really wasn't necessary, but I like the way it looks, anyway! And you may notice that I shaved the side trim and door handles. (a MAJOR pain in the butt!)
Prologue
This car was done as Crystal and I were trying to get our wedding done. I think this actually helped me get through the whole deal. I guess that what I like about modeling the most. It's a great way to relax, and kind of get back to center.