Welcome to
Robb Hindle's Scale Auto Modeling Page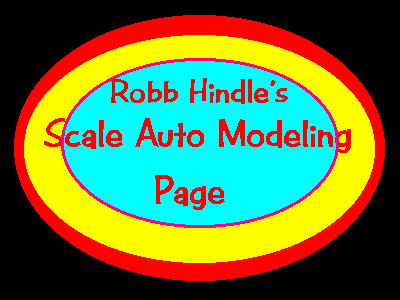 What's new
In the Paddock, Rusty's Last Call 2005 Dodge Charger NASCAR stocker!
For those of you who tried to visit the week of 1 April 06, I apologize. Tripod for some reason decided that this was an inactive site and closed it down. After a few emails, we managed to come to an understanding, and the site is back.
The Thank Younz Section!
To Crystal my wife, who puts up with my wierdness, To Dr. Ron Tuman, the man who got me addicted to this web page stuff, To ALL of the talented modelers who have allowed me to showcase their work........
THANK YOUNZ!!!
The Helpers

The legal stuff
The images presented here are, except where noted, are Property and Copyright Robb Hindle, and may only be used with express written permission. If you see any image not given it's due credit, please contact me and I will rectify the problem.
Updated 16 April 2006
By The Bridge Web Studio (aka Robb)
Hits since March, 2000